Top 5 Popular Bridesmaid Dress Styles in 2022
Still, trying to find the perfect styles for your bridesmaids for the upcoming wedding? Whether you're just getting started with looking for bridesmaid outfits or you've already tried it but haven't gotten the hang of it, you might as well stop by and take a look at our list of some of the most popular bridesmaid styles in 2022. Maybe it will give you some inspiration.
Should my bridesmaids wear the same dresses completely? We think most brides will say no. The answer is actually up to you. Of course, you could have them wear the same color and style to keep the balance. However, you could also be bold to choose something different and unique styles. Go and try mix & match ideas for an anticipated wedding. It would be fascinating. Meanwhile, your bridesmaids could choose their favorite dresses according to their figures and preferences.
Now would like to share some popular styles on our website this year.
1.Strapless sweetheart A-line bridesmaid dress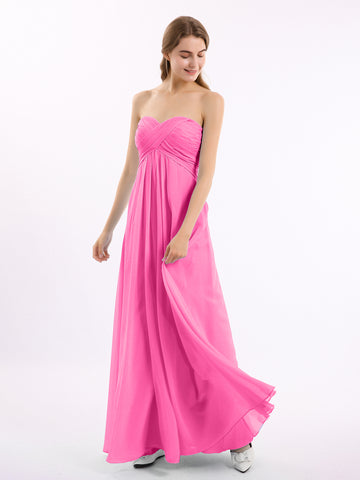 The strapless sweetheart neckline is ideal at milder temperatures when the skirt flows beautifully with a lightweight feel. The high-waist and A-line detail could show the body's advantage, and also so convenient to move. We also recommend the sky blue color for you. It is perfect for a summer wedding or beach wedding.
2.Off-the-shoulder elegant chiffon bridesmaid dress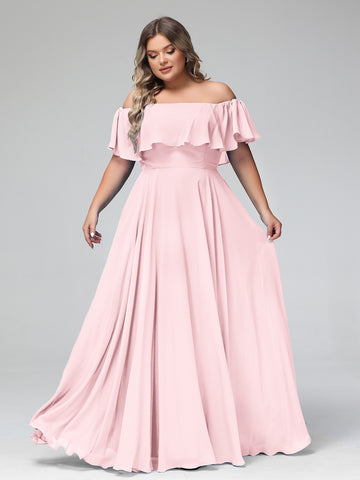 Minimal and chic, this off-the-shoulder gown is both romantic and modern. The dropped shoulder part could perfectly cover the arms well, and the ruffles flow with the wind, which is very suitable for beach weddings or any outdoor wedding. Photographers are sure to capture the beautiful moments of the wedding.
3.One-shoulder simple chiffon bridesmaid dress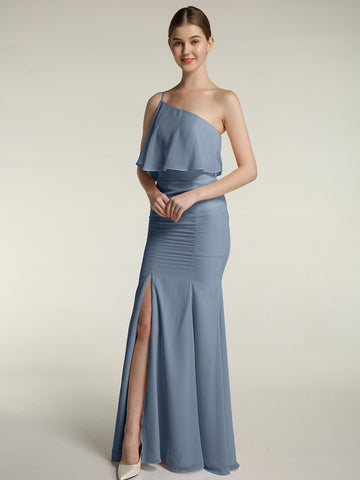 A beautiful way to highlight the neckline is with a one-shoulder bridesmaid dress. This silhouette is so simple and classic. Made of flowy chiffon fabrics with a thigh-high slit, it's elegant yet comfortable for movement or dancing.
4.Spaghetti straps tiered Max Bohemian Dress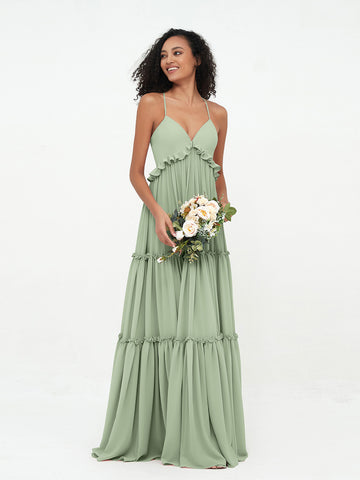 The perfect boho v-neckline sleeveless chiffon dress with spaghetti straps! The cascading design adds a casual and unruly temperament, which is especially suitable for your big day. Delicate straps connect at the back in an overlapping zig-zag pattern, creating an exquisite look for your beautiful and elegant bridesmaids! Please be confident. Will be a big surprise for your bridesmaid if you choose this dress, and she must love it so much. Not only for bridesmaids' dresses but also could wear them when traveling or at any prom party.
5.Halter neckline floor-length chiffon bridesmaid dress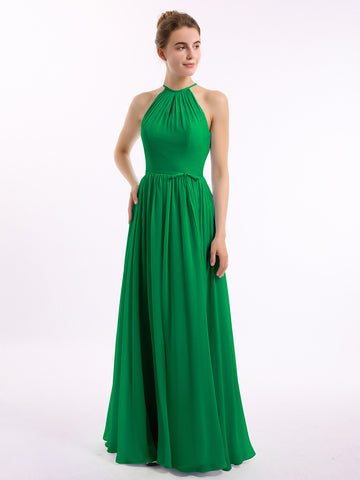 BABARONI Cynthia is a gorgeous full-length chiffon dress. A halter neckline and unique triangular open-back designs create a sophisticated atmosphere and also show your exquisite body proportions. Casual elegance and a free-form design come together in this stunning dress.
According to the popular forms of weddings in 2022, the brides are not only willing to spend time on wedding planning, but they are also more concerned about the feelings of their bridesmaids and want to share their happiness with their dear bridesmaids. Instead of choosing a single color or a single style of bridesmaid dress, mixing and matching is a good choice for the vast majority of brides. We believe there will be many distinctive wedding ideas in the future, and also for bridesmaid dresses, such as unique styles, special fabrics, and customized colors.
Conclusion: 
Thanks so much for your reading. We all hope this blog will be helpful for your upcoming wedding soon. And we have many inspirations on proposals, weddings, gift ideas, and more. Feel free to share this blog with your friends. We would be truly grateful if more people could see our brilliant ideas.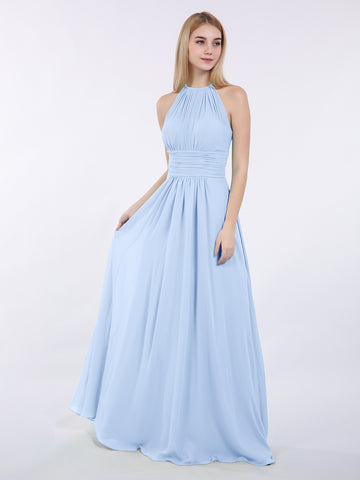 Breaking news for you! You can get our dresses for FREE! We are a  free giveaway campaign from time to time. So easy to join us will be a great chance to win your ideal dresses for free! More importantly, you may join our giveaway campaign every month! Follow @babaronicom and @babaronicouk on Instagram to learn more details!
Ladies! Please do not worry. We are functioning normally now. If you need any help before placing the order, please do not hesitate to send your problems to service@babaronimail.com, then our customer service will reply to you as soon as possible. You will usually receive a confirmation email within 24 hours of payment (48 hours in high season). And we will process your order promptly and ship it as soon as possible to ensure that you receive your product on time! We appreciate your support and trust. After receiving your dress, please check whether it is the color you want and whether the size is right for you. Please feel free to contact our after-sale customer service as soon as possible if you have any questions about the dress.
Besides, the great campaign with Trustpilot continues. You will get a 20 USD code for your next order if you leave us a positive review on Trustpilot.com or tag us on social media when you share the pictures. Feel confident to share with our customers and us about your shopping experience and the photos. Never miss BABARONI's amazing promotions! We will keep you updated if you follow us.
Now we have a mid-November sale activity, an 8% off. The code is MNS8 from the 10th to the 13th of November. If you are interested in our dresses, please do not forget them.
The biggest On-line Shopping Carnival, Black Friday, is just around the corner. What kind of discounts will we have this year? Let's look forward to it together. If you have any good ideas, you could discuss them with us.