Pre-wedding Preparations Tips for Bridesmaids
For a perfect and grand wedding, in addition to the bride and groom, the bridesmaids also play an important role. As friends, there is no greater privilege than being chosen as a bridesmaid. You may feel excitement and joy when hearing this news, but if you've never been to a wedding or have been chosen as a bridesmaid for the first time, you may be overwhelmed if you're not prepared. With all the parts of the wedding, there is some division involved for anyone in the wedding party, so you need to be fully aware of the duties to be the best bridesmaid, ensure that the wedding will go on successfully, and leave a deep impression for the guests.
Now we will give you some tips about the preparation of a bridesmaid before, during, and after the wedding.
The first is the clothing preparation before the wedding. First of all, the moment you confirm to be a bridesmaid, you need to ensure with the bride what needs are there for the bridesmaid's clothing, such as color, style, or wedding theme. Whether the bridesmaids need the uniform dresses ordered by the bride or the bridesmaids can choose their favorites according to the bride's requirements. Secondly, you need to confirm which season the wedding will be held in. If the wedding is in spring while the weather is milder, you can choose anything you like. If it is in winter, it is necessary to consider warmth retention. Last but more important, you also need to know whether the wedding will be held indoors or outdoors. You can choose high-grade fabrics such as satin and silk indoors. If it is outside, the elegant and soft chiffon skirt will be the best choice. of course, the lace skirt is also very suitable. Now, it's time to choose a bridesmaid dress that fits the theme of the wedding.
The creative philosophy of Babaroni is dedicated to providing professional and stylish attire for brides and bridesmaids. Now we can recommend a few. Hope that could give you some inspiration.
The BABARONI Mireille is our most popular dress from the new collection. The elegant chiffon fabric is suitable for spring, summer, and autumn, and it is also perfect for outdoor or seaside weddings. Mireille dress with a classic big v-neck and wide shoulder straps, showing a moderately sexy charm. It features an A-line cut which is simple but not outdated, suitable for any occasion. The straps on the back can be tied into a bow, which is a bit lively and cute. And also we still have a few photos that our customers shared with us.
These two photos show different styles, but they are suitable for all kinds of figures. Simple design with small V-neck design, stylish and decent. Of course, you could also choose some accessories to add highlights to the whole skirt as the second customer. The collision of the chiffon skirt and the metal belt is unique, giving people a refreshing feeling.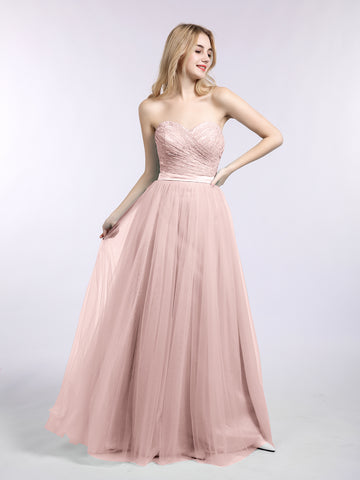 Joan is a full-length dress made of tulle and lace with an A-line cut. Sweetheart collar with exquisite lace at the top of the body, especially the belt on the waist made of satin fabrics, makes you much brighter. It is the first time that I found one dress that mixes three fabrics but still looks more harmonious. Not only can this dress be used as a bridesmaid dress, but it can also be used for any party. And also we still have a few photos that our customers shared with us.
In the first photo, the customer regards the belt as a hair accessory, and there is no sense of disobedience as if she bought it, especially for matching. Both fit and look great. It has more characteristics than ordinary bridesmaid dresses and has a lot more sense of design. The tulle dress is also more suitable for spring and summer. Of course, I think autumn is also suitable, and the lining is relatively thick.
Alina is one of the best popular long sleeve dresses on our site. It features an A-line cut that could show your physical proportion. The pleated waistline is a lovely detail that is flattering on every figure. It is very suitable for winter weddings or outdoor weddings. The weather is relatively cold and you need to consider warmth retention. It is not only beautiful but also warm. This dress is tailor-made for bridesmaids with thicker arms or plus sizes.
These are just two images that I've selected from the many images shared by our customers. Dark navy is also one of the more popular colors, which is very suitable for fair-skinned bridesmaids and will make your skin much glower. If you do not care about the skin, it doesn't matter, burgundy and cabernet are also a choice for you, is suitable for a cold winter wedding.
And also before the wedding, Participating in the rehearsal is also part of the duties of the bridesmaids, rehearsing the activities on the wedding day in advance, and preparing the props needed for shooting. It is important to know who the wedding planner is and can help you get guidance from the planner at some point during the wedding event,  and also could know their schedule to make sure to do whatever is asked to let everything goes smoothly on the day.
The bride may feel excited or anxious before the wedding and feel overwhelmed. At this time, as the best friend of the bride, you can give the bride the best emotional support, so that she can always maintain a happy mood. Then it is to cooperate with the bride to record this beautiful day. The bride will take photos with the bridesmaids before the wedding. If there is anything you don't like about your hair and makeup, please don't complain, just do it as requested. The wedding day is a long day for the whole wedding party. The bride may not have time to eat. You could give the bride some snacks at the right time to ensure that the bride is not hungry for a long time. If the process is relatively intensive, at least ensure that the bride drinks water. Before the ceremony, bring everything she needs like rings, vows, etc., but the bridesmaids can help with smaller items like lipstick and the bride's cell phone.
Since it may take a few weeks before the photographer shares the photos, after the wedding, you could share the wedding photos with the bride and show her the inadvertently touching moments captured at the wedding.
Reading here, an exciting wedding has come to an end, but the happiness of a couple is about to begin. As a bridesmaid, you have given everything she wanted at the wedding, that is enough. Hope this blog can bring you some inspiration.
Breaking news for you! You can get our dresses for FREE! We are a  free giveaway campaign from time to time. So easy to join us will be a great chance to win your ideal dresses for free! More importantly, you may join our giveaway campaign every month! Follow @babaronicom and @babaronicouk on Instagram to learn more details!
Ladies! Please do not worry. We are functioning normally now. If you need any help before placing the order, please do not hesitate to send your problems to service@babaronimail.com, then our customer service will reply to you as soon as possible. You will usually receive a confirmation email within 24 hours of payment (48 hours in high season). And we will process your order promptly and ship it as soon as possible to ensure that you receive your product on time! We appreciate your support and trust. After receiving your dress, please check whether it is the color you want and whether the size is right for you. Please feel free to contact our after-sale customer service as soon as possible if you have any questions about the dress.
Besides, the great campaign with Trustpilot continues. You will get a 20 USD code for your next order if you leave us a positive review on Trustpilot.com or tag us on social media when you share the pictures. Feel confident to share with our customers and us about your shopping experience and the photos. Never miss BABARONI's amazing promotions! We will keep you updated if you follow us.
We will have a Christmas sale pre-sale activity, a 12% off. The code is CPS12 from the 12th to the 18th of December. If you are interested in our dresses, please do not forget them.
More latest styles will be updated on our social media including Pinterest, Facebook, Instagram, Twitter, and YouTube channel, please follow us to find more information. If you have any suggestions, please feel free to contact us directly. If you like our blog, please share it with your friends. Maybe they will find it useful as well! We will highly appreciate your sharing.